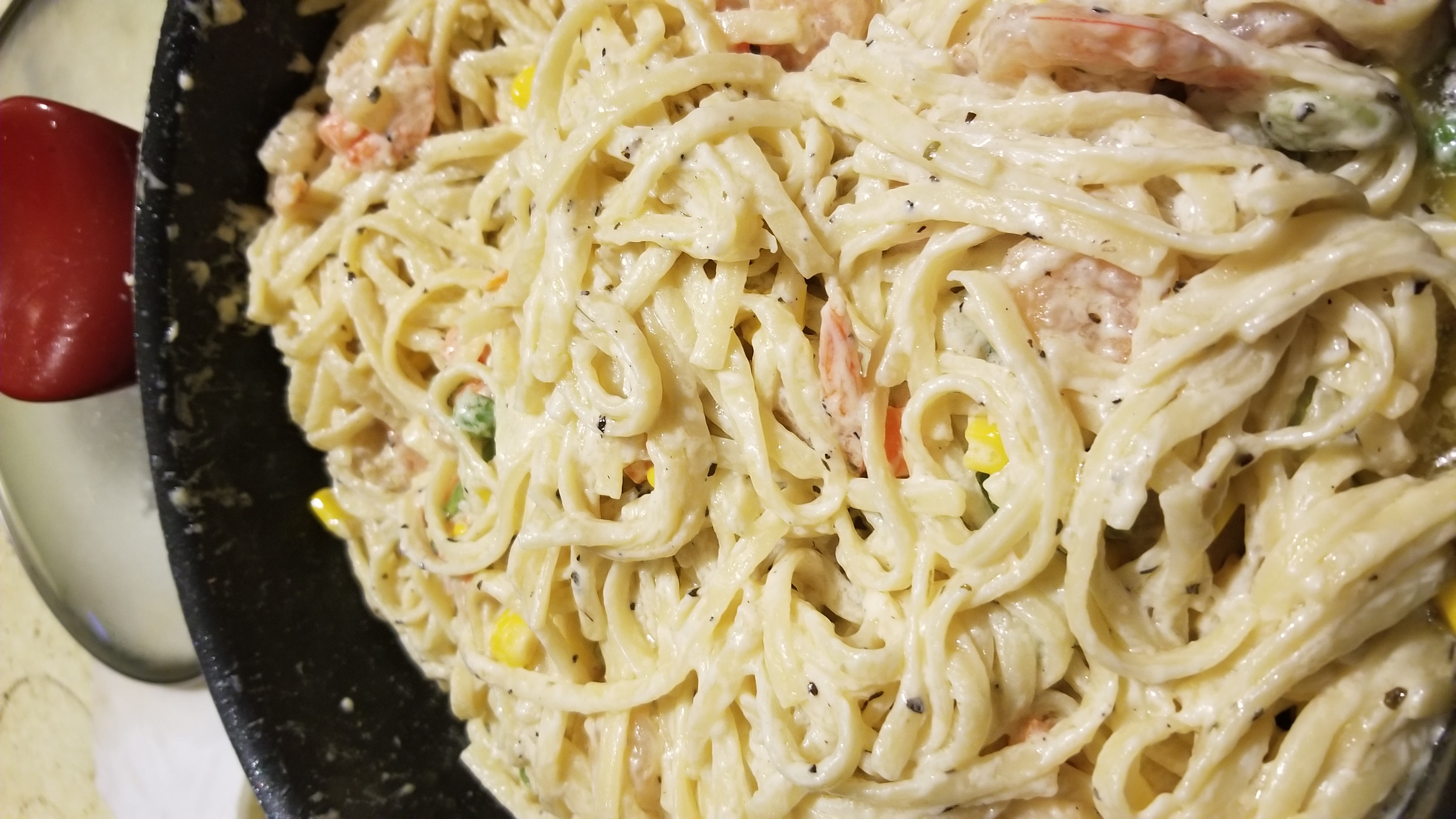 Shrimp Linguini
So I do not consider myself a 5 star chef by any stretch of the imagination, but I do enjoy cooking and making food that my family will eat. I have been impressing my husband with my ability to make tasty meals out of whatever I can find in the kitchen. It's a talent I developed over many years of being a single mom and having to eat on a budget.
So this evening I tried my hand at some shrimp linguini. Quick, simple, fairly cheap to make and our bellies are full and happy.
What you will need:
1 box of linguini (or whatever pasta noodles you prefer)
1 bag of frozen shrimp (if you would like to use fresh it will not change the recipe)
1-2 cups frozen veggies of your choosing
2 cups butter
2 cups sour cream
2 tablespoons garlic powder (you can also dice up 2 or 3 fresh cloves)
1 tablespoon onion salt
1/2 teaspoon pepper
1 teaspoon basil
1 tablespoon flour
Directions:
I start by putting the pasta into water to boil while I make the rest.
In a large sauce pan place 2 tablespoons of the butter along with 1 tablespoon of garlic powder and 1 teaspoon of onion salt over medium heat, stirring until butter is melted.
Then add the shrimp. Cook for 5 to six minutes until shrimp are not and cooked through. Then remove the shrimp from butter and place on a plate, leaving the butter in the pan.
Add the rest of the butter, garlic powder and onion salt and stir until butter is melted.
Reduce the heat slightly and add in the sour cream, stirring constantly until blended. Then add in the flour, basil, and pepper.
Slowly increase the heat back up to medium until sauce is simmering. (If the sauce is too thick add more butter until it reaches desired consistancy.)
When pasta is tender, remove from heat and drain then set aside.
Add the veggies to the sauce and stir while veggies cook. When they are tender add in the shrimp, then add in the pasta in portions, stirring to cover in sauce before adding the next portion of pasta.
When all of the pasta has been added, make sure that everything is coated in sauce, then salt and pepper to taste.
Serve.
There you go, a satisfying meal in around 30 minutes.